Grilling has become a popular way of cooking in recent times. This is largely because it produces food that tastes better and is healthier than other methods of cooking.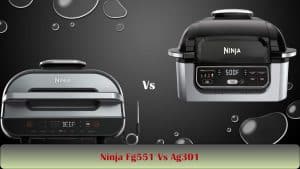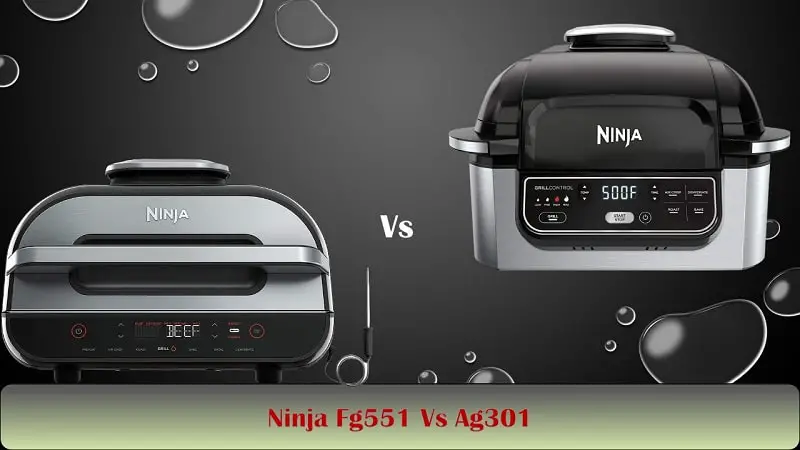 Preheating a charcoal grilling device can take some time, and waiting for the grill to heat up again after changing the settings or switching between heating modes can be frustrating. An electric grill on the other hand with built-in thermal sensors monitors changes in heat and humidity to ensure constant and energy-efficient operation.
In this article we are comparing Ninja Fg551 vs Ag301 electric grills side by side to find out which of the two best-selling grills could be your next. Let's have a look at comparison table below.
Ninja Fg551 Vs Ag301 Comparison Table
| Features | Ninja FG551 | Ninja AG301 |
| --- | --- | --- |
| Dimensions | 15.75x16.54x11 Inches | 15x15x11 Inches |
| Material | BPA Free | BPA Free |
| Weight | 23 lbs | 27 lbs |
| Cooking Capacity | 9x12" Grilling Grates, 4 Quarts crisp basket, 4 Quarts Cooking pot to Bake, Roast & Dehydrate | 10x10" Grilling Plate, 4 Quarts Air Frying Basket 6 Quarts Cooking Pot to Bake, Roast and Dehydrate |
| Cooking Functions | Preheat, Air Crisp, Roast, Grill, Bake, Broil, & Dehydrate | Grill, Air Fry, Bake, Roast, Dehydrate |
| Max Temperature | 500F | 500F |
| Control Panel | Touch Screen | Touch Screen |
| Dishwasher Safe | Yes | Yes |
| Nonstick Coating | Ceramic | Ceramic |
| Smoke Free cooking | Yes (Minimum Smoke) | Yes (Minimum Smoke) |
| Foodi Smart Thermometer | Yes | No |
| What's in the Box? | Ninja Foodi Smart XL Grill | Ninja Foodi Grill |
| | Splatter Shield | Splatter Shield |
| | Removable Cooking Pot | Removable Cooking Pot |
| | Smart Thermometer | Grill Grate |
| | Grill Grate | Crisper Basket |
| | Crisper Basket | Cleaning Brush |
| | Cleaning Brush | Recipe Book |
| | Recipe Book | Quick Start Guide |
| | Quick Start Guide | Owner's Guide |
| | Owner's Guide | |
| Warranty | 1 Year Limited Warranty | 1 Year Limited Warranty |
| User Rating | 4.8/5 (11.5K Sold) | 4.8/5 (22K Sold) |
| Check for Best Price | Check Price | Check Price |
Key Difference Between Ninja Fg551 Vs Ag301
Both Ninja Fg551 Vs Ag301 are perfect choices for any household looking for a budget friendly yet versatile indoor grilling option. Both ninja electric grills offer impressive grilling performance with their cutting-edge cooking technology. Here are the key differences that you might have spotted in the comparison chart.
Ninja Ag301 offers more cooking space with 10×10" grilling grates, 4 QT air frying basket, 6 QT cooking pot whereas Ninja Fg551 comes with 9×12" grilling grates, 4 QT crisp basket, and 4 QT cooking pot. It's a tie!
Ninja Fg551 is more versatile and offers 7 cooking functions including preheat, air crisp, roast, grill, bake, broil & dehydrate. On the other hand, Ninja Ag301 offers 5 cooking functions (grill, air fry, bake, roast, dehydrate). Ninja Fg551 wins!
The hallmark feature of Ninja Fg551 that gives it an edge over Ninja Ag301 is Foodi smart thermometer. Ninja Fg551 comes equipped with a Foodi smart thermometer so you could cook your food to the doneness level of your preferences. Ninja Ag301 doesn't share this feature. Ninja Fg551 wins!
With that said, let's review both appliances separately in details.
Ninja FG551 Foodi Smart XL 6-in-1 Indoor Grill
Ninja Fg551 is the upgraded version of Ninja Ag301 with more power and more features to surprise grill enthusiasts. Unlike its predecessor it has a smart thermometer, bigger cooking capacity, better design and it has been optimized for a comfortable indoor grilling experience.
Having a meat thermometer built-in will surely be helpful during steak nights. Whether you like your steak rare, medium or well done, this tiny yet powerful tool will get you precise doneness as you like. This smart feature is one of the key reasons people are switching and upgrading their old grills with Ninja Fg551 smokeless grill.
Sale
Ninja Fg551 is not your most compact option yet it offers against occupying a spot on your kitchen counter. Or you could have a separate station for your grill in your household. Measuring 16x17x11 inches, the electric grill will take a considerable space on the counter.  Its black and stainless-steel exterior blends in nicely with any theme. Apart from grilling which is the main purpose it preheats, air crisps, roasts, bakes, broils and dehydrate so you could just leave it on your counter for other cooking tasks.
Performance
Ninja has perfected the art of combining style with performance in one packaging and that's what Ninja Fg551 is all about. Just like a charcoal or any other traditional grill, it produces that delicious char-grilled results for your steaks and chicken.
With that said, it produces a very little smoke that will not make it uncomfortable while grilling inside and it will add to that specific taste that we all know of: Smokey and juicy texture! The grill hardly takes 10 minutes for preheating which is pretty quick in comparison to charcoal grills meanwhile you could prepare your recipes and ingredients to get the party started.
Smart thermometer
What we really loved about the Ninja Fg551 smart XL indoor electric grill is its Foodi smart thermometer which makes it easy to get the desired doneness for your steak, chicken, and barbeque. Its smart cooking system prevents overcooking and you will be notified once the cooking cycle if over. Once the required doneness is achieved, the grill will tell you to get your food.
Another benefit of smart thermometer is that you could simply add the ingredients, insert the thermometer, and walk away without the fear of overcooking.
Overall, with 7 cooking functions, huge cooking space and smart cooking mechanism makes it one of the most wanted electric grill in the market.
Key Features
Foodi Smart thermometer

Stay Cool exterior

Powerful heating element

7 Cooking functions

Ceramic coated nonstick cooking pot

Dishwasher safe
The Good √
Contemporary aesthetics

Virtually smokeless

Replaces 6 other appliances

Smart cooking

Easy to use and easy to clean

Touch screen control panel
The Bad ×
Takes a huge chunk of counter space

Hard to store in the cupboard
Ninja AG301 Foodi 5-in-1 Indoor Grill
Ninja Foodi Ag301 doubles as an air fryer does more than just cooking delicious grilled food. It is one of the perfect grills for your barbeque nights for more than one reason. For starters, it has an easy-to-use user-interface, smokeless cooking system, touch screen control panel, and spacious grilling surface which makes it a fantastic product.
Besides grilling, Ninja Ag301 can also air fry, roast, bake, and dehydrate allowing you to cook a range of delicious fried foods. Given its cooking capacity, you can roast a whole chicken, and use its 10×10" grilling grates for steaks, chicken, roasted veggies and more.
Sale
Cooking Performance
Ninja Ag301 indoor smokeless grill delivers a fantastic cooking performance given its budget friendly price tag and compact design.
It easily replicated the very smokey taste of grilled meals without having to deal with tons of smoke. It can produce char-grilled results without dealing with the trouble of starting up a charcoal grill. The grill takes about 8 to 10 minutes to preheat making it faster than charcoal grills in the market.
With its 10×10" grilling grates it can fit 4 steaks easily however, if you are cooking for large family, Ninja Ag301 is not the grill you would want. It is meant to cook for a medium family of 3-4 members.
Versatile
Ninja Ag301 is not just any grill but a combination of 5 cooking appliances to cater to all your cooking needs. Not just grill, it can air fry, roast, bake, and dehydrate.
Make burgers, kebabs, grilled cheese, grilled chicken, lamb chops, grilled pork, grilled steak, salmon, grilled veggies, French fries, and more with Ninja Ag301 in a literally smoke free environment. Not only that, almost any grill recipe is possible with Ag301. Even better, you don't need to thaw frozen foods and cook directly on the grill without waiting for hours.
Oh, you could also make pizza with Ninja Foodi Ag301 indoor grill. Another thing worth mentioning, since the grill doesn't work like a panini press, to have grill marks on both sides, you will require to flip the food.
Ease of Use
The grill boasts an intuitive digital control panel with grilling controls on the left side and other functions (air crisp, roast, bake, dehydrate) on the right end. You get four temperature settings from low and medium to high and max enabling you cook a wide variety of ingredients.
You also can refer to the grilling sheet you get with the grill however, it is not 100% accurate so we suggest you keep an eye on your food for precision cooking. We loved the fact that you could use Ninja Ag301 5-in-1 grill for experimentation to create your own recipes and consistent results.
Using Ninja Ag301 for air frying, baking roasting and dehydrating is straightforward as well. The best part? All the removable parts are nonstick and dishwasher safe so cleaning will not be a great deal. Just toss the removable parts into the dishwasher and you are all set.  
Key Features
5 cooking functions

Compact design and sturdy construction

Touch screen control panel

Nonstick removable parts

Can reach 500F
The Good √
Modern design

Programmable functions

Suitable for medium size family

Almost smokeless

Perfect char-grilled taste and texture

Digital timer and control

BPA free, dishwasher safe
The Bad ×
Takes significant countertop space

No smart thermometer

Indirect heating

Couldn't cook large batches
Conclusion: Ninja Fg551 Vs Ag301
Ninja Fg551 vs Ag301 are both highly versatile and incredibly well designed smokeless indoor grills to give you a grilling experience like never before. You could grill without the fear of weather elements sabotaging your BBQ party. With the comparison chart and a detailed overview above, you would be able to choose the one you deem fit for your household.
Choose Ninja Fg551 6-in-1 Indoor Smokeless grill if:
You are looking for a versatility in grill.

You are looking for precision cooking system.

You are looking for large cooking capacity.
Choose Ninja Ag301 5-in-1 Smokeless Indoor grill if:
You are looking for a grill that does more than just grilling.

You can spare a dedicated spot for the grill in your kitchen.

You don't need smart thermometer in your grill.

You are looking for a grill on the budget.
Hope this answers your query of which of the two grills should you get for your household.  Let us know which did you choose and why?