Many people find it difficult to make perfectly cooked rice. Usually, we get overcooked, undercooked rice stuck like glue to the bottom of the pan. To ensure that every grain is well cooked, all you have to do is get a Korean rice cooker, which is incredibly easy to use.
Korean cuckoo rice cookers will help you easily prepare a plate of fluffy white, brown, black, jasmine, or basmati rice. You also don't have to worry about your rice being undercooked, burnt, or mushy.
Cooking rice, oatmeal, risotto, bean soup – and this is not the whole list of what a rice cooker can do.
So, check out the 7 best Korean rice cookers and choose the one that's right for you.
| | | | |
| --- | --- | --- | --- |
| | | | |
| | CUCKOO CR-0631F Micom Rice Cooker | | |
| | CUCKOO CRP-P1009SB Rice Cooker | | |
| | | 1.7T Tephron coating oven | |
| | CUCKOO CRP-FA0610F Rice Cooker | Fuzzy Logic & Intelligent Cooking Algorithm | |
| | CUCKOO CRP-P0609S Rice Cooker | | |
| | CUCKOO CMC-QSB501S Rice Cooker | | |
| | Tianji FD30D Electric Rice Cooker  | | |
CUCKOO CR-0631F Micom Rice Cooker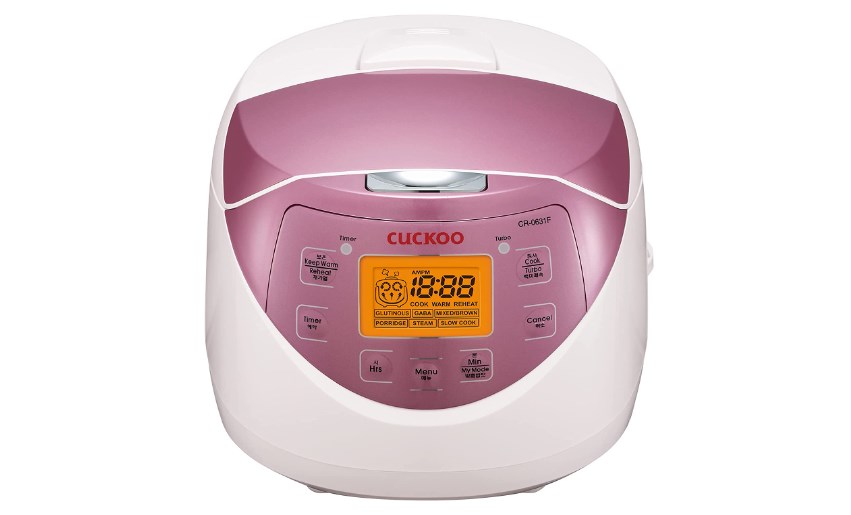 Quantity: 6-Cup (Uncooked)
8 Menu Options: White Rice, Brown Rice, jasmine rice & more
Inner Pot Material: Nonstick
Manufactured: Made in Korea
Color: White/Pink
The CR-0631F rice cooker is the best Korean rice cooker for cooking rice like an experienced sushi chef. Korean rice cooker boils rice quickly. You don't have to worry about the beans burning around the edges.
The timer function allows the user to set the exact cooking time. There is also a function to keep rice warm for 24 hours. The cooking bowl is made of heavy aluminum and the body and lid are strong.
The turbo function speeds up the cooking of glutinous rice. The lid can be easily removed and replaced for easy cleaning. This Korean rice cooker is easy and quick to clean. A useful feature is the steam bowl located at the back of the device. When cooking is completed, unwanted water flows into this cup so that it can be easily removed.
CUCKOO CRP-P1009SB Rice Cooker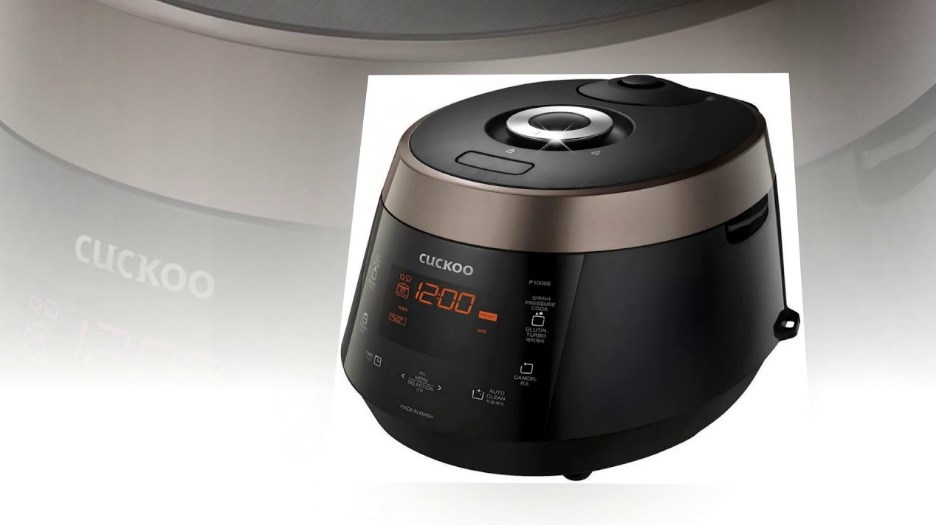 Quantity: 10-Cup (Uncooked)
12 Menu Options: Quinoa, Oatmeal, GABA, jasmine rice & more
Material: Nonstick
Manufactured: Made in Korea
Color: Black/Copper
CUCKOO CRP-P1009SB is the best Korean rice cooker with all the features and prices to match. Since this is a high-end model, you can cook a large amount of rice (10 cups of raw rice). Cooked rice is crumbly and fluffy—no lumps or dry, overcooked rice around the edges.
CUCKOO CRP-P1009SB is capable of making yogurt, cheese, Korean dook, Japanese mochi, casserole, pot roast, and many other recipes. A drainage system collects water vapor after cooking to prevent the rice from spoiling.
Korean rice cooker is equipped with safety features that prevent dangerous pressure buildup, regulate voltage, issue warnings, accurately control temperature, and more. You can turn on the rice cooker in the morning and not worry about fire safety.
CUCKOO CRP-P1009SB has a convenient automatic steam cleaning function. At the touch of a button, a jet of steam will clean and sanitize the inside surfaces of the hob.
Cuchen Micom Rice Cooker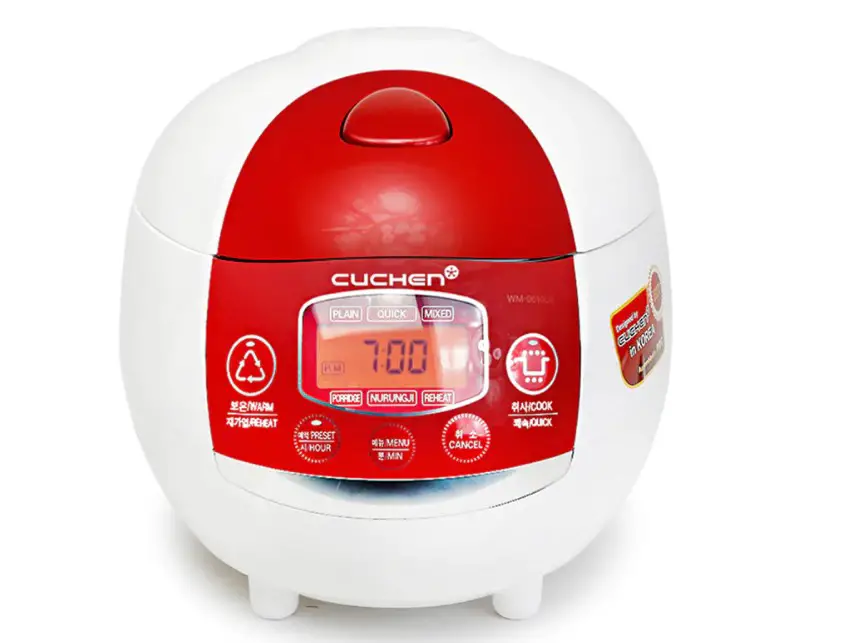 Quantity: 6-Cup (Uncooked)
Menu Options: white, mixed, brown, porridge, GABA brown, slow cooking, and quick cooking
Material: Nonstick
Manufactured: Made in Korea
Color: White, Grey
Cuchen Micom Rice Cooker is the best Korean rice cooker equipped with multi-cook functions and is ideal for small kitchen spaces. Able to cook the best Korean rice, mixed rice, porridge, brown rice, GABA brown rice, or sweet rice.
Cuchen Micom Rice Cooker is designed for fast and slow cooking. It also regulates the cooking duration and temperature based on the temperature sensor's calculations. It has an LCD that shows the time and menu options. The removable inner lid makes cleaning easy.
Simple operation with English and Korean display. Cuchen Micom Rice Cooker has automatic temperature control and can adjust the duration of cooking by the calculations of the temperature sensor.
Cuckoo CRP-FA0610F Rice Cooker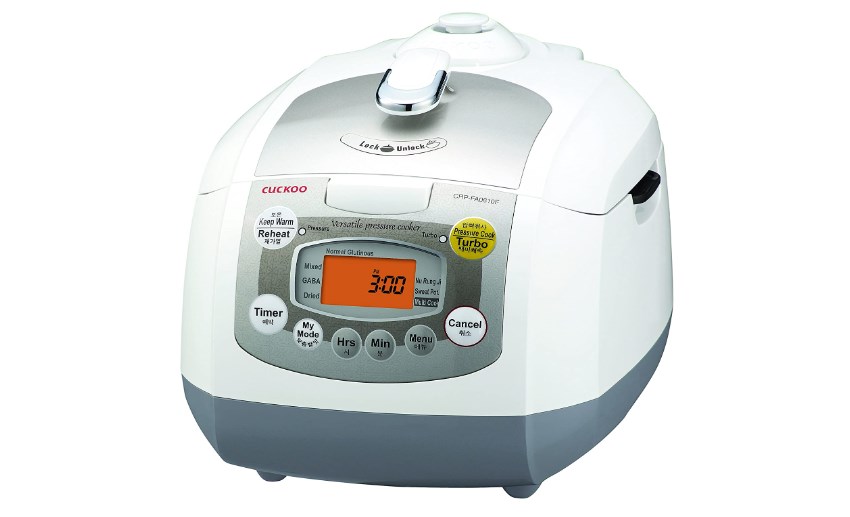 Quantity: 6-Cup (Uncooked)
Menu Options: Quinoa, Nu Rung Ji, GABA/Brown Rice & more
Material: Aluminum
Manufactured: Made in Korea
Color: White/Silver
Cuckoo rice cooker CRP-FA0610F is the best compact rice cooker. It has a small inner pot that only holds 6 cups of rice, but this is not a disadvantage, as many small to medium-sized families prefer this size unit. Controls the entire cooking process with a computer chip that automatically adjusts the temperature, speed, and environment inside the rice cooker just like a human would.
The inner bowl is made of aluminum, which is an excellent conductor of heat. Thanks to aluminum, the inner bowl helps to cook the rice faster.
Cuckoo rice cookers differ from other models in their appearance. It has a more traditional look, almost like a bread maker. The LCD screen and control panel are simple and intuitive. The only downside is the presence of the Korean language. If you don't speak Korean, you can disable voice navigation!
CUCKOO CRP-P0609S Rice Cooker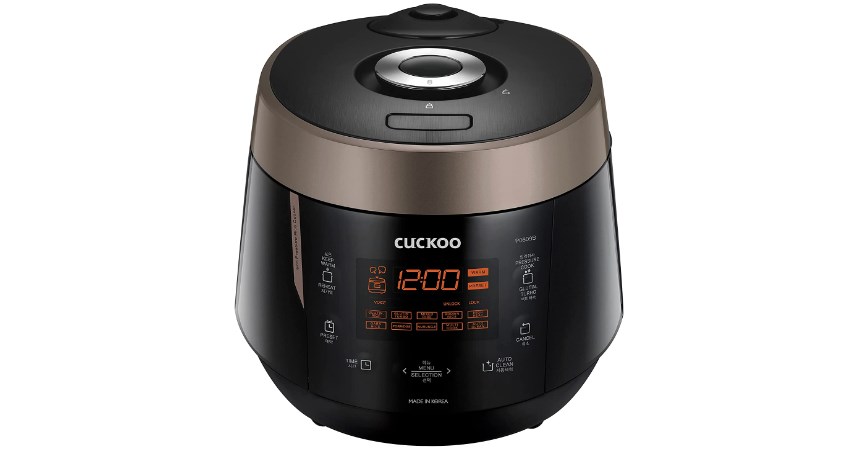 Quantity: 6-Cup (Uncooked)
12 Menu Options: Quinoa, Nu Rung Ji, GABA/Brown Rice, white rice & more
Material: Stainless steel with premium X-wall non-stick coating
Manufactured: Made in Korea
Color: Black/Copper
Cuckoo CRP-P0609S has 10 smart programs to help you create various recipes more efficiently, including brown rice, mixed rice, Japanese rice, basmati rice, glutinous rice, porridge, quinoa, oatmeal, and more. You can even fry rice with this multicooker.
The X-Wall Diamond coating is one of the most durable materials available. Thanks to the non-stick coating, the rice grains cook perfectly without sticking or burning. The removable stainless steel inner lid is easy to clean and dishwasher safe. This appliance is also equipped with an automatic steam cleaning function.
This Korean rice cooker is equipped with an intelligent voice navigation system that makes it easy to use. An efficient water drain system preserves the taste and texture of your mixed rice and prevents bacteria and bad odors by collecting excess water vapor. This appliance has a double-layered soft steam lid for safe and quiet steam release during cooking.
CUCKOO CMC-QSB501S Rice Cooker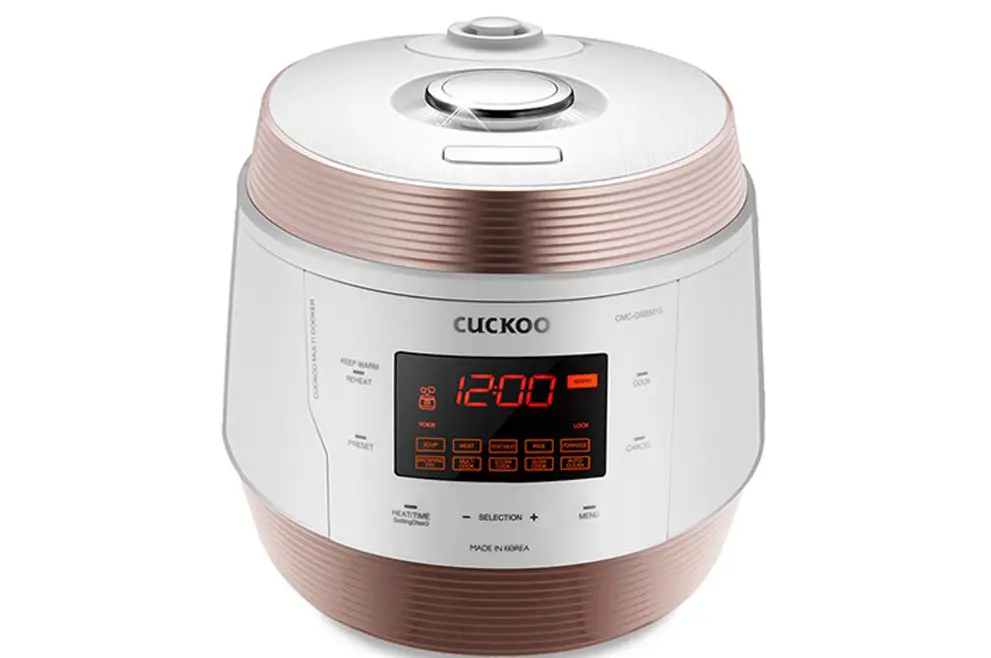 Capacity: 5 Quarts
10 Menu Options: Slow Cooker, Sauté, Steamer, Yogurt, Soup Maker & more
Inner Pot Material: STAINLESS STEEL with Xwall Coated Inner Pot
Manufactured: Made in Korea
Color: White/Copper
CMC-QSB501S features multilingual voice navigation, a self-cleaning system, and multiple safety settings to keep your rice nutritious and healthy while you cook. Cuckoo CMC-QSB501S serves as a pressure cooker, slow cooker, rice cooker, fryer, steamer, food warmer, yogurt maker, and soup cooker. You can also boil eggs in this cooker.
There are safety features such as a digitally programmed steam release valve that automatically releases steam at the end of a cooking cycle or during the keep warm mode. Another feature is the automatic cleaning function, which uses the steam from the pressure cooker to sanitize the rice cooker.
The inner pot is lined with 2PLY Clad, which is a combination of stainless steel and aluminum. It helps with thermal conductivity and can withstand high temperatures, pressures, and steam. The outer case is made in exquisite white and gold tones.
Tianji FD30D Electric Rice Cooker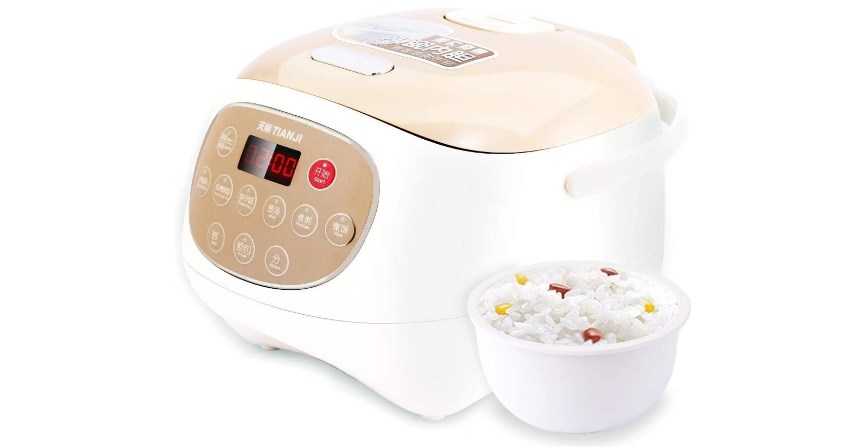 Tianji Electric Rice Cooker has a high-quality ceramic inner bowl instead of aluminum or stainless steel. Ceramics not only retains the original taste of your rice better but also makes the rice healthier due to the lack of chemical coating in the pot. This material also provides better heat distribution and keeps the rice warm longer.
Tianji Electric Rice Cooker has 4 cooking methods: rice in a clay pot, rice with several grains, soup, and porridge. A timer is also provided, which is an ideal addition as it allows the user to prepare food in advance.
Tips for Buying the Best Korean Rice Cooker
Before buying a Korean rice cooker, you should consider several important factors.
Capacity
For small families of two or three people, a rice cooker for 5 cups is enough. But if you have a large family, or if you frequently invite friends over for dinner, then you may want to consider products that use a larger capacity. The advantage of a smaller rice cooker is that it uses less electricity and can fit in a small kitchen space.
Rice heating
This function allows you to keep the rice warm for a certain amount of time. This is a fantastic feature if your family eats rice multiple times. Rice not only retains heat but rice heating function also prevents it from clumping.
Pressure cooker
A pressure cooker can speed up the cooking process, with little or no effect on the degree of readiness of rice.
Inner Lining of the Pot
Quality rice cookers usually have a non-stick coating that makes cleaning easier and prevents cooked rice from sticking to the pot.
Timer
Choose models that allow you to plan cooking times – this saves you time and effort.
Ease of Cleaning
Most rice cookers come with an automatic steam cleaning feature that keeps the inside clean. Choose a device with a removable cover for easy cleaning.
Other Features
In addition to the ability to cook different types of rice, some devices can be used as slow rice cookers or steamers for vegetables, fish, or baby food. If you don't cook rice regularly, these additional features can make the device more useful.
Accessories
Some rice cookers come with accessories such as measuring cups and rice spoons. Choose one depending on your needs.
Benefits of Using a Korean Rice Cooker
The Korean rice cooker is a godsend for those who often eat rice and want to save time and effort. This ensures that you don't spill water when the rice boils and that each grain of rice is thinly and individually cooked rather than overcooked or undercooked.
Here are some benefits of a Korean rice cooker:
Saves time and effort
Even the distribution of heat from all sides
Easy to clean
Does not require assembly
Automatic detection of time, temperature, and water level.
The best Korean rice cookers can effectively cook rice grains evenly, whether they are brown or white. Some rice cookers are equipped with automatic temperature and water level detection, which ensures even heat distribution.
Important Rice Storage Tips
Store rice in a cool, dry place out of direct sunlight. To protect against insects, store rice in the refrigerator or freezer.
Store rice in an airtight container
Scatter a few bay leaves on the shelf next to the rice container to keep out pests.
What is Fuzzy Logic?
The Fuzzy Logic of more expensive rice cookers is a significant selling point. This technology allows the rice cooker to cook all types of rice and foods.
Fuzzy logic succeeds the thermostat. In addition to measuring the internal temperature, it can provide uniform heating. For example, if you cook rice on a hot day, the rice heats up faster. In a hot environment, the rice cooker will sense that the rice is heating up too quickly and the fuzzy logic will reduce the heat to ensure gradual heating and improve the rice cooking quality.
The functionality allows the production of better quality cooking rice and gives the user more options for cooking. But if the price is critical, then a cheaper model will still serve you well.
Necessity Induction Heating
The principle of operation of such a device is that the heating element is the bowl itself, constructed from a special alloy, which is heated by a magnetic field, which in turn simultaneously and evenly distributes the temperature over the bowl and food.
The main disadvantage of an induction rice cooker is that you will have to fork out a high-quality device with a large number of operating modes. Also, the rice cooker has other advantages: energy efficiency, fire safety, speed of cooking, and the benefits of cooked food.
Tips for Using a Rice Cooker
Different varieties of rice require different cooking times
There are over 120,000 varieties of rice. Also, some of these grains take longer to cook than others, which means that many types of rice will cook at different times in the rice cooker. So, it's always worth checking your rice cooker's manual instead of assuming you know how it will handle one of the 120,000 types of rice grains in the world.
You can cook rice in broth instead of water.
If you want the rice to have a little more flavor and spiciness, then you should boil the rice in broth instead of water. Adding a small amount of chicken broth to the rice cooker will give your grains a deliciously tangy flavor.
Know the best water ratio for each type of rice.
Different types of rice require not only different cooking times but also different amounts of water. This is because if you boil the rice in too much water, it will become criminally sticky.
Boiled rice for a fluffy texture.
If you have a rice cooker, be sure to be able to turn small grains into fluffy clouds. All you have to do is leave the rice in the rice cooker for another 10 minutes after it's done. This will put just a pinch of extra moisture into each grain of rice, making it plump but not mushy.
Learn how to clean a rice cooker.
If you want your rice cooker to be flawless, then you must know how to properly care for it. You should leave the inner pot of the rice cooker in warm water for about 20 minutes. After that, take a non-metallic spatula and scrape off any unwanted grains. You mustn't use a sponge to wash dishes, as such a tool can scratch or damage the inside of the rice cooker.
To clean the rice cooker lid, find out whether it is removable or not. If the lid of your rice cooker comes off, wash it in the same soapy water. But if it doesn't have a removable lid, dip a sponge in some warm, soapy water before using it to wipe the lid thoroughly. After completing this step, wipe the lid with a damp cloth to remove any soap residue.
A rice cooker can cook more than just rice.
Some modern rice cookers are capable of cooking not only rice, but also dishes such as oatmeal; a dish consisting of salmon, some vegetables, a small amount of miso, broth, and rice wine; cooking apples with cinnamon; warm sweet Japanese sake; for the preparation of non-alcoholic mulled wine.
You can reheat leftovers in a rice cooker.
Most microwave ovens will make some of your dishes too hot, while other parts won't be hot enough. They will make your bowls burn to the touch and your food will bubble and splatter all over the place.
A rice cooker cannot only cook dinner but also warm up your leftovers. What's more, they do the job better than any old microwave. This is because the rice cooker will keep every part of your dish constantly warm. Even better, you won't have to deal with burnt fingers and blisters from a hot bowl.
FAQs
Why are Zojirushi rice cookers best?
The main difference is that this rice cooker uses induction, which heats the entire pot (not just the bottom) and provides an ultra-precise cooking process.
What is a Korean rice cooker?
A Korean rice cooker is not a rice cooker made in Korea. These brands may also have subsidiaries and offices in different countries. Korean rice cookers can be found in the US market and almost every other country.
The control panel of Korean rice cookers is available in many languages to help non-Korean users easily understand the rice cooking functions and operations of the device.
Why does my rice cooker smell terrible?
Most people just rinse the pot after the rice is cooking. If you have cooked a hot or heavily flavored dish, its smell remains. The auto-clear mode may not be enough to fix it. The best way is to pour a glass of water and half a glass of vinegar, and then put it on the stove for half an hour. Then wash it with soap.
What else can be cooked in a Korean rice cooker?
In rice cookers, you can even boil sausage, quinoa, oatmeal, and soup, boil eggs, steam vegetables, and bake biscuits.
Is a stainless steel rice cooker safe?
Yes. The stainless steel rice cooker pot is more resistant to direct leaching, nickel, and other poisonous chemicals.
Are Korean rice cookers different?
Korean rice cookers are good for making white rice. Most Korean rice cooker options will be the same as any other rice cooker manufacturer. This means that Korean rice cookers will cook you the same quality rice as other manufacturers.
Conclusion
If you are looking for the best Korean rice cookers, then this guide will help you. Each of the above products has amazing characteristics and provides rice cooking. Rice cooked in rice cookers is very satisfying and tasty.
If you like well-cooked rice, then we recommend purchasing a Korean rice cooker. The quality of cooked rice is much better than that using a pot of water. Also, pay attention to the CUCKOO CRP-P1009SB. This is a premium device that allows you to cook perfect rice. This Korean rice cooker is ideal for those who often eat rice.
The CUCKOO Micom Rice Cooker is the best Korean rice cooker for those looking for the perfect rice at an affordable price. While the Korean rice cooker doesn't have all the extra fancy settings, it does make flawless rice. Best of all, it is relatively small and will easily fit into a kitchen with limited space.
Read also: Rice cooker cleaning: the best safety instructions for you