Whenever in doubt, choose good carbon steel woks like Yosukata Carbon Steel Frying Wok. It is robust, affordable, and excellent in almost every way. However, if you are a fan of flat-bottom woks, then both Kenmore Hammond Flat Bottom Wok or Cooks Standard Flat Bottom Wok can be a great choice. The latter is more compact while the former provides a wider surface.
While these recommendations are easy to understand, you still might be conflicted about which one to pick. That's why we tested and reviewed all of them and listed the good and bad about these frying woks. 
So, let's get started!
Best Wok Picks for Ultimate Fried Rice Recipes
Before we move on to the detailed discussion about all of these 3 woks, here's a quick overview of what you can expect from these incredible choices-
| | | | |
| --- | --- | --- | --- |
| Frying Woks | Feature | Technical Features  | Price |
| Yosukata Carbon Steel Frying Wok | Best Carbon Steel Frying Wok | Carbon steel body with a wide range of compatibility | Check Latest Price |
| Kenmore Hammond Flat Bottom Carbon Steel Wok | Best Flat-bottom Frying Wok | Nonstick, Wide surface area to cook  | Check Latest Price |
| Cooks Standard Flat Bottom With 11-Inch Lid | Best Compact Frying Wok | Compact anodized finish with oven+dishwasher safe features | Check Latest Price |
Among these 3, we obviously prefer the Yosukata carbon steel one because of its unparalleled features and insanely competitive pricing. Still, let's dive deeper into all of these woks one by one.
Yosukata Carbon Steel Frying Wok: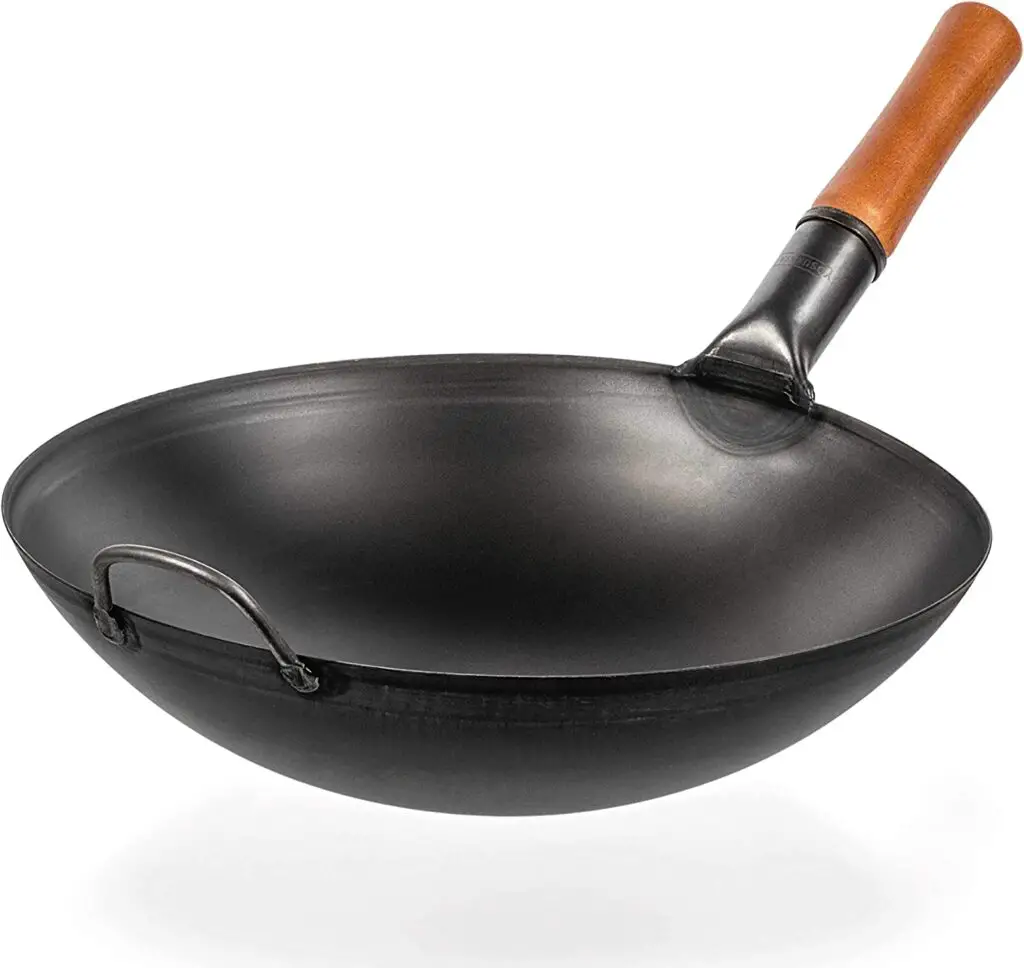 Best Carbon Steel Frying Wok:
Specifications: 
Weight: 6 pounds
Height: 3.8-inch
Size: 13.5 inch/34 cm
Gauge: 16
Material: Carbon Steel
Compatibility: Gas, Open Fire, BBQ, Grill
Pros:
Great design and build
Pre-seasoned and easy to handle
Affordable
High Customer Satisfaction
Wide compatibility
Cons:
Hard to use on electric coil stoves
The non-stick surface does not last long if not maintained properly
This is by far the best wok we have seen in this affordable price range. It is well-built, durable, resilient, and compatible with most stovetops. It is mostly made of strong black carbon steel (the composition is 99% iron and 1% carbon) with an ergonomic design. 
The best part about this wok is that it's not big or small at 13.5 inches so most people will find it easy to handle. As it's pre-seasoned you won't face common wok seasoning issues and it can be washed off pretty easily. The maximum temperature support is also commendable reaching over 600F without any complications. 
So, whether it's your fried rice or eggs, you can stir-fry, or deep-fry anything very conveniently. 
However, the nonstick coating is not great as it requires regular maintenance which is a downside compared to the other options. Another important thing about a carbon steel wok like this one is that you should always use it with oil. Otherwise, you will damage your inner surface faster than you know.
Kenmore Hammond Flat Bottom Carbon Steel Wok: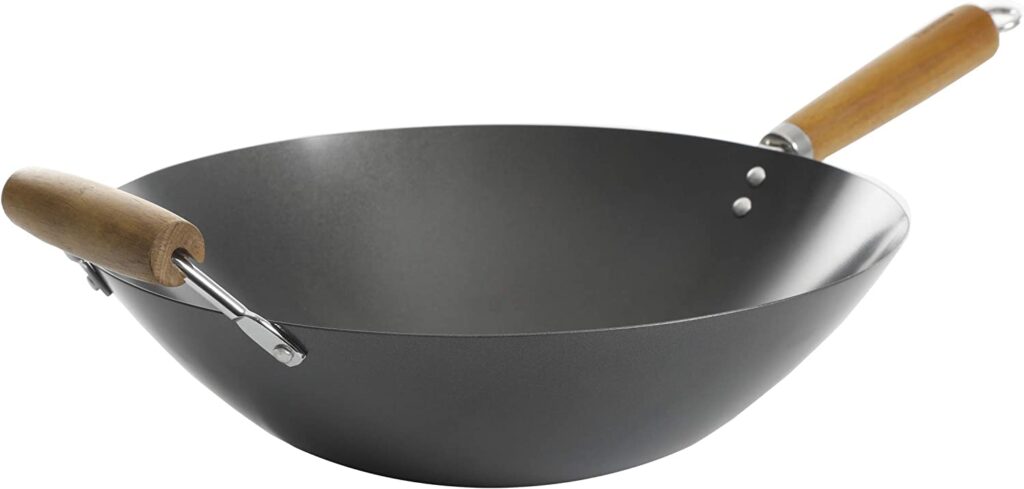 Best Flat-bottom Frying Wok:
Specifications: 
Weight: 5.85 Pounds
Height: 4-inch
Size: 14-inch 
Capacity: 10 ounces
Warranty: 1-year
Material: Carbon Steel
Dishwasher-safe: No
Maximum Temperature: 260 Degrees Celsius
Compatibility: Gas, induction, vitroceramic, electric
Pros:
Even heat distribution
Wooden handles 
Nonstick surface
Flat-bottomed
Cons:
Wears down faster than expected
Not dishwasher or oven safe
You can ask anyone about the best wok for fried rice and the common answer you will get is the majority use flat-bottomed ones. That's why the second option in our list is a flat-bottomed one: Kenmore Hammond Flat Bottom Carbon Steel Wok.
Stir-fry, deep-fry, or steam recipes, whatever you name it, this wok can handle everything you throw at it. Even the commonly heard rice bubbling up like soap issue is greatly reduced because of its wide inner surface.
Its versatile and timeless wooden handle design is truly a charmer. We really loved using it for a period of time until we noticed a setback.
Kenmore Hammond Wok wears down fast, at least faster than the other available options on our list. While the brand is obviously one of the most trusted ones in the kitchenware space, you will notice the nonstick coating fade away after a while.
However, that's not a major drawback as all woks lose their nonstick coating after a while. If you take care of your wok properly then the surface will last longer than you expect. 
Cooks Standard Flat Bottom With 11-Inch Lid: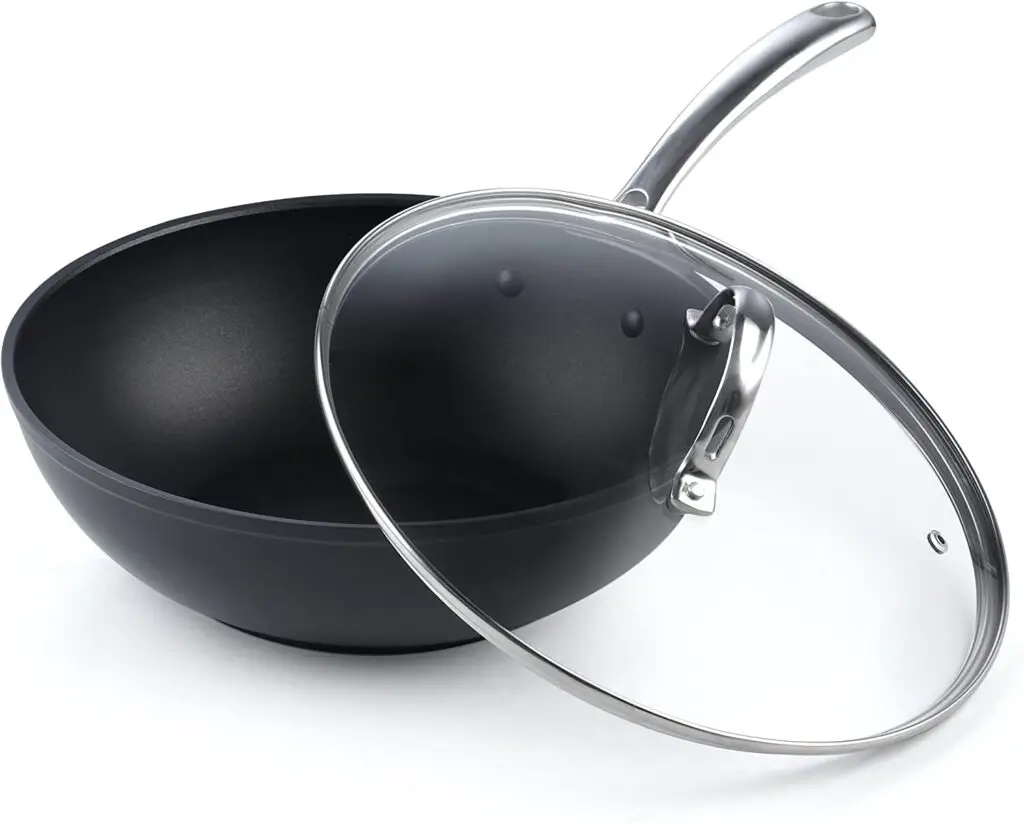 Best Compact Frying Wok:
Specifications: 
Weight: 6 Pounds
Height: 3.2-inch
Size: 11-inch 
Material: Aluminium, Glass
Oven-safe: Yes
Dishwasher-safe: Yes
Maximum Temperature: 175-250 Degrees Celsius
Compatibility: Induction, Gas, Electric Coil, Ceramic
Pros:
Compact and strong anodized build
Stainless steel handle for comfortable grip
Nonstick performance
Cons:
The smaller size might not be for everyone
Costlier than the other options
The last one on the list is the most compact one at only 11-inch size: Cooks Standard Flat Bottom Wok. We must say that its compact size really comes in use when you're not looking for large portions. As your main concern is making fried rice, it's great for any type of rice, even fixing your undercooked rice will feel like a fun activity!
It has a strong build with a durable and hard anodized surface. The aluminum-glass lid also offers an even spread of heat when you need it.
Compared to the other options, this wok is able to stand out for its oven and dishwasher-safe features. These features become very useful when you're not in the mood to do the dishes. 
The inner surface is nonstick material so you can clean the wok with your hands or sponge easily. However, we found the nonstick surface to wear out after a year of usage. Also, sometimes the flat area seemed a bit too small when we tried to cook anything in bulk.
Still, it's definitely a great pick if you're looking for something compact yet efficient to stir-fry rice or any similar recipes.
Things to Consider While Purchasing Good Frying Wok
Now that you know about the best woks in different price ranges and features, it's time to think about what are the things you need to consider. Here are some key attributes you should always be careful about before getting a new frying wok-
Quality & Size:
Do you want a large wok surface or just a compact one? Should the quality be so-so or does it have to be state-of-the-work art? If you know the answers to these questions then your purchasing decision will come to you easily. 
Build Material:
While the material used in a wok can vary, some popular choices do exist. For many, the best wok material is obviously carbon steel. It is widely used to make woks, pans, and everything you see around your kitchen. So, if you're a fan of solid materials for your woks, then carbon steel can be an ideal choice.
However, if you want a more premium build, you can check out stainless steel or cast iron woks. Those are on the expensive side but they can deliver consistent durability and good compatibility.
Induction & Oven Safe:
Most woks are induction safe which means it does not get damaged while used with induction stoves. However, not all are oven-safe. If you are someone that puts anything in often, then consider something that's oven-safe. Otherwise, the manufacturer won't be responsible for the consequences.
Nonstick Surface:
You will generally see two types of coating on your wok surface: non-stick PTFE coating and ceramic coating. Both of these two materials are widely used and easy to clean and durable.
However, PTFE coating can release toxic substances when subjected to extreme heat and temperature. You don't have to face that issue with the ceramic coating but they are  costlier. But remember to season your wok regularly otherwise you won't get good results.
Warranty:
You can obviously expect your woks to last longer but a specific warranty eases up your worries, doesn't it? However, the sad part is that only a few manufacturers actually provide a warranty with woks in the affordable range. The expensive ones come with an average warranty period of 1 year with some extensions.
So, if you want to be extra safe, then paying a premium for your wok is all you can do.
Frequently Asked Questions (FAQs):
Should I Choose A Flat-Bottomed Or Round-Bottomed Wok For Making Fried Rice?
A flat-bottomed wok is a better choice for making fried rice, as it can be used on both gas and electric stovetops. Round-bottomed are not as widely compatible as flat-bottomed ones because of the uneven outer surface.
What Size Wok Should I Choose For Making Fried Rice?
A wok with a diameter of 12 to 14 inches is the best size for making fried rice for a family or small group of people. A smaller wok may be too small for cooking the rice evenly, while a larger one may be too heavy and difficult to handle.
Can I Use A Non-Stick Wok For Making Fried Rice?
Yes, you can use a nonstick wok but they may not provide the same heat distribution as a traditional carbon steel wok. It's best to use a traditional wok for making fried rice to ensure that the rice cooks evenly and develops a slightly crispy texture.
Do I Need To Season My Wok Before Making Fried Rice?
Yes, it's important to season your wok before using it to make fried rice. Seasoning the wok involves heating it over high heat with oil, which helps create a natural non-stick surface and prevents the rice from sticking to the wok.
Conclusion
Finally, you are now fully aware of what you should do when choosing the best wok for fried rice recipes! If you are not clear about anything yet, we urge you to go through all the recommended woks here and do some research on your own!
Hopefully, you will find the wok of your dreams soon enough!