Usually, in order to cook pasta on the stove, we need to boil the water first, and then put the pasta in the pot. All this requires a lot of time and attention.
Cooking food in rice cookers is very easy. You can put all the necessary ingredients in them, simply fill the rice with water, put it in a certain mode, and go about your activities.
Most of the rice cooker recipes are very simple indeed.
If you want to experiment and cook pasta in a rice cooker, but do not know if it is safe, this article will help you and give answers to important questions.
Also, if you have the instructions for your appliance, then feel free to use them, they will help us in making pasta in a rice cooker.
And when you are going to cook pasta in a rice cooker, you should understand that a rice cooker designed for a small quantity of product will not be able to cook a large quantity of pasta, so you will have to cook pasta in a rice cooker several times. That is, the size and brand of your rice cooker determine how much pasta you can make.
What is a rice cooker?
A rice cooker, which can also be called a slow cooker, is simply an electric pot that can make our lives easier. In a rice cooker, we always get perfectly cooked rice. It is designed to make a sauce, boil rice, and more. A rice cooker is very useful for cooking various meals.
In fact, the rice cooker is simply a device that has an inner pot, that achieves an internal temperature sufficient for boiling water.
Thanks to this technology, the rice cooker can cook not only rice but also cook pasta and more.
Another advantage of the rice cooker is that it doesn't warm up your kitchen, and you can avoid even hotter weather in your home during hot summers.
Rice cookers come in different models and sizes. Most brands of rice cookers offer many benefits. Small ones (basic rice cookers) hold enough water to cook 1-2 servings of pasta. Larger ones are suitable for the whole family.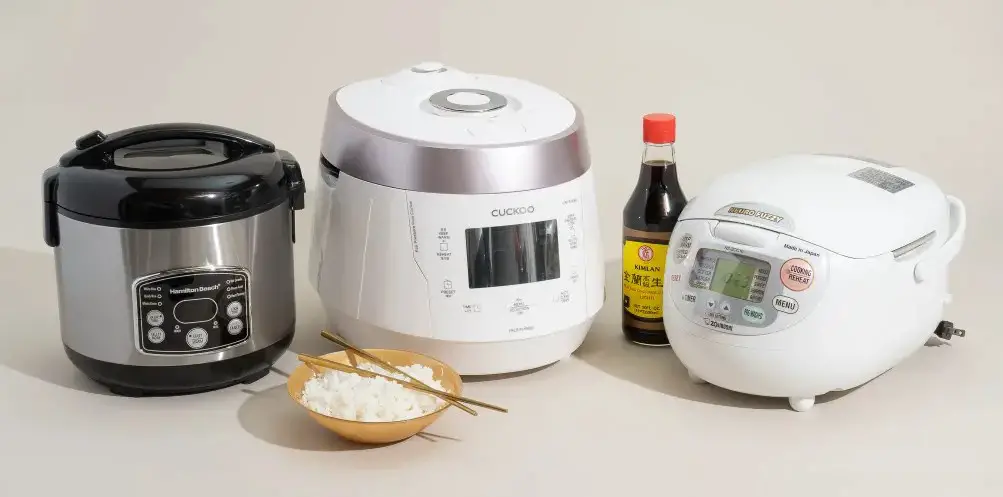 Can you cook pasta in the rice cooker?
If this device is called a rice cooker, it does not mean that it can be used only for cooking rice. Of course, in addition to rice in the rice cooker, you can cook pasta. The rice cooker cooks not only small noodles, for example, bow ties, but also spaghetti and other types of pasta. Making pasta in the rice cooker is very easy and not energy intensive.
Also, pasta cooked in a rice cooker can become your usual dish.
What else can you cook in a rice cooker besides rice?
The rice cooker is widely used in cooking.
In addition to rice in the rice cooker, you can cook all dry foods that require water for cooking. You may as well use the rice cooker for cooking pasta. In addition, some rice cookers can be used to stew meat, boil gravy, and even steam vegetables.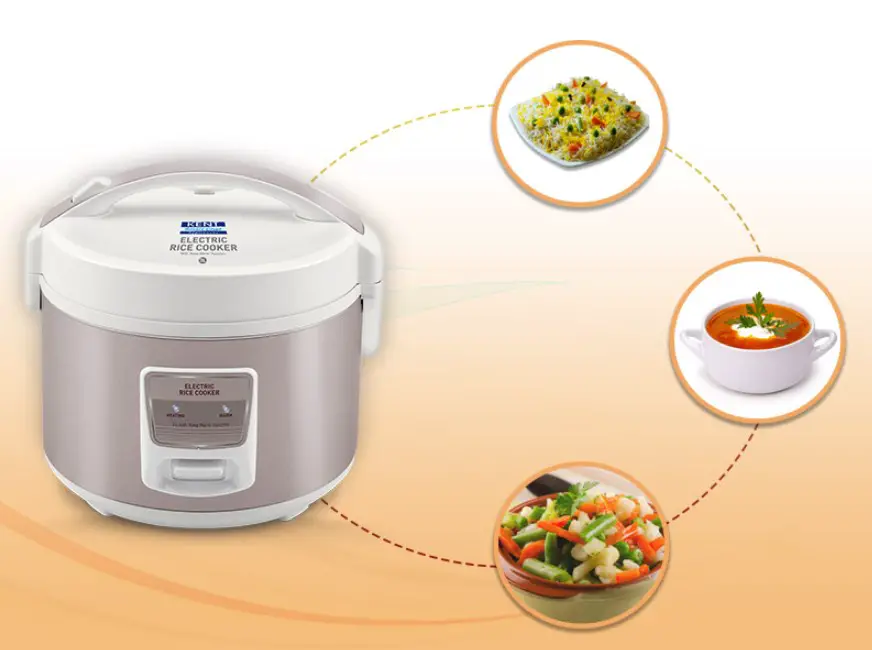 How do you cook noodles in a rice cooker?
Making spaghetti can be tricky if you want to boil it in the rice cooker without breaking the pasta. But there's a way out of that, too.
Pasta in a rice cooker is very easy to make, and the dish turns out incredibly delicious! And we are ready to share with you this great recipe.
Pasta in a rice cooker (recipe and cooking process)
Not surprisingly, the cooking process is very similar to cooking rice.
To make a delicious side dish, we will need:
rice cooker
water
uncooked pasta
a few minutes of your precious time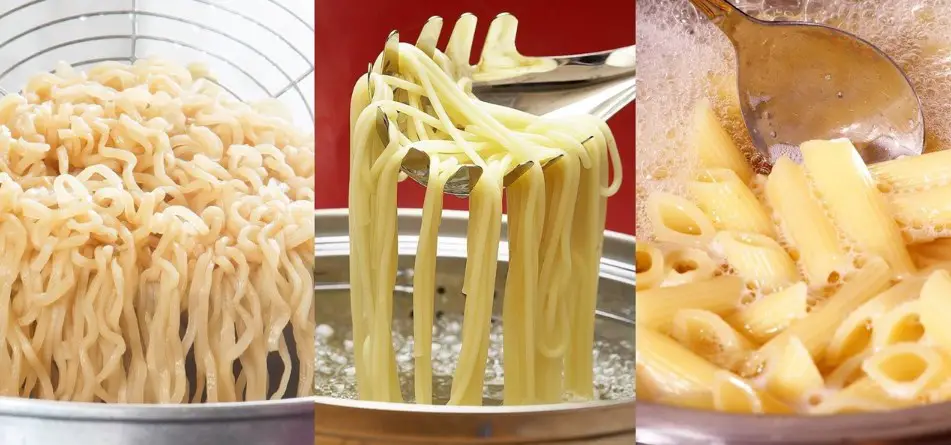 Let's start cooking pasta!
Method 1
To begin with, as with cooking rice, you need to pour dry pasta into the main part of the rice cooker. Add water. Then you can add salt, but note that the salt will affect the flavor of your dish in the future, so add it carefully. After this, you should add a teaspoon of oil, for example, olive oil. This should be done to prevent foaming.
Now you can start cooking! Next, press the cook button on your device. The dish is pasta al dente.
Method 2
In fact, the preparation of plain pasta is very similar to this method. But making pasta with this method is simpler.
There is another way to cook pasta in a rice cooker like on a stove. For this one, we need boiling water and then adding the pasta. Also, press the cook button. It is also pasta al dente. After the pasta is cooked, drain off the water, and you can safely serve pasta dishes with the pasta sauce.
Your rice-cooked pasta will surprise your housemates or guests. And when you tell them you made pasta in a rice cooker, they will be doubly surprised. And they'll even think you have magical talents!
But some of these methods of cooking pasta may not suit your rice cooker, it all depends on the model of your device.
How can you make other meals with a rice cooker?
You also have the option of making a full meal in the rice cooker. You can top your meal with sauce or stew meat and vegetables in the same rice cooker. Preparing one-pot recipes is very useful. And you can make a lot of great dishes from one pot meal.
And we even prepared for you a recipe for an incredibly delicious pasta sauce.
Cooking pasta sauce recipe
We need:
vegetables (onions, etc.)
meat or sausage (if you want)
your favorite sauce
First, you need to add a little olive oil to the pot and let it warm up by covering the bowl with a lid. Next, fry the chopped vegetables: onion, garlic, and peppers, for about a minute. Also, add your favorite vegetables as well. If you like meat sauce, then feel free to add sausage or minced meat to the mixture. Stir to combine.
After the contents are fried, you need to take them out and set them aside in any container.
Then you can already add your favorite pasta or noodles, and then pour a little water into the pot for cooking. If desired, you can pour more oil. After that, add the sauce of your choice and move our previously prepared mixture on top of the pasta.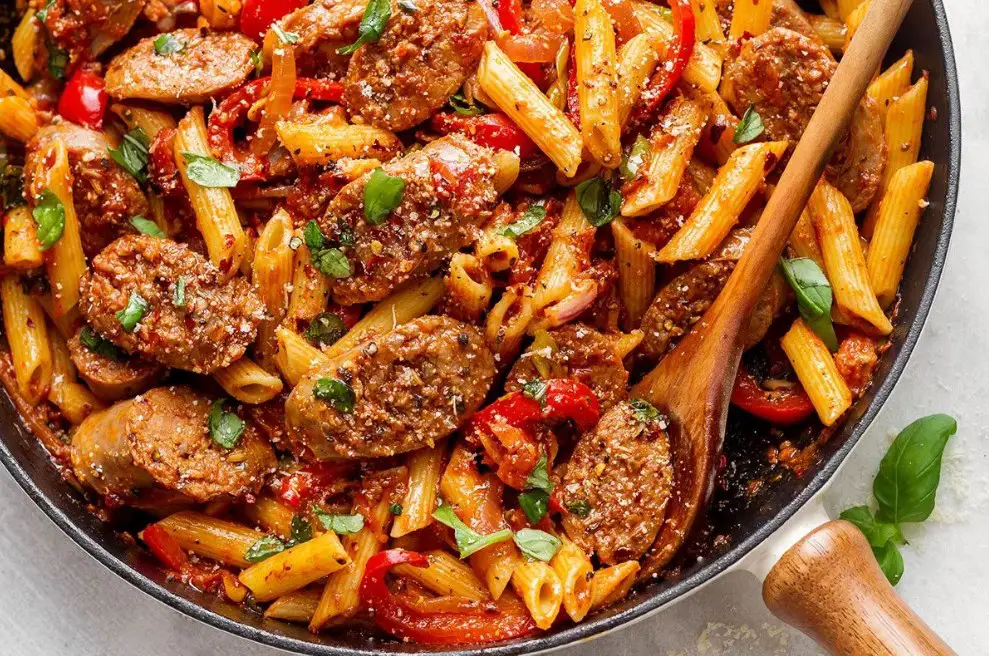 What is the ratio of water to pasta?
When you cook pasta, adding water is the most important step. It should be added in the ratio of 2/3. It is important to add enough liquid to just over half of the pot, do not add too much or too little, because during the cooking the pasta will increase in size.
Also, the number of water varies depending on how soft you want the pasta to be.
No additional water needs to be added during cooking. Only in extreme situations.
Cooking pasta tips
While the pasta is cooking, you should open the lid and stir 1-2 times, so the pasta doesn't stick together and comes out perfectly.
You should also avoid your rice cooker's warm mode, as it will heat your dish and later the pasta will turn out toasty. This mode is suitable for rice, but it can be harmful to pasta.
The pasta may not turn out if you do not follow the instructions of the rice cooker's author. Because many devices may differ in their technology. And many of the recipes may not work for you.
It is important to note that the pasta may not turn out if you use too much oil or sauce.
If you have cooked too much pasta and cannot eat it all at once and put the dish in the fridge, the next day or a few hours later it cannot be heated and eaten, as it is not safe for health. When reheated, the nutritional value is lost. But this is up to you, if you think it is safe, then feel free to reheat it and be satisfied with great pasta.
Spaghetti should not be left in the fridge for more than 2 days. During this time, they will spoil and should not be eaten categorically. It is best to keep the pasta in a hermetic container to avoid unpleasant smells in the food.
How long does it take to cook pasta in a rice cooker?
Most often this time is about 20 minutes.
The cooking time depends on the size and quantity of the pasta. If you cook the pasta according to the second method, the cooking time will be written on the package of noodles.
You need to understand by sampling whether the pasta is ready or not.
For example, you can take one pasta out of the rice cooker and cut it into several pieces. If the pasta is still tough, you should cook it some more. If you are satisfied with the consistency, your pasta is ready.
Conclusion
Rice cookers offer us many advantages. The Rice cooker will become your faithful assistant in the kitchen. It will save you from unnecessary fuss in the kitchen. The cooking process will be a pleasure for you, and you will indulge your family with delicious dishes more often.
Also, your food will stay warm even after you finish cooking. Buy a rice cooker and cook the most delicious dinners of rice, pasta, buckwheat, etc. You won't regret doing it!
Read also: Can you freeze potato soup: the best step-by-step guide, useful tips and methods for freezing