Presto 01781 vs 01784… considering buying one of these but couldn't figure out the difference? Worry not and read on as we compare Presto 01781 vs 01784 pressure canner side by side so you could figure out for yourself, which one of the two presto pressure canners could get a spot on your kitchen counter.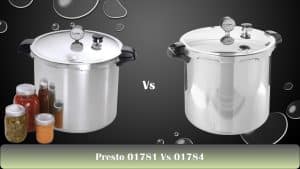 Presto offers a wide range of kitchen appliances and presto pressure canners are second to none in terms of construction, design and quality. I had a presto for a while but later I upgraded to All-American which is another household name in the states. Without further ado, let's start by comparing the two pressure canners and see what both have to offer.
Presto 01781 Vs 01784 Comparison Table
Image
Budget-friendly

Amazon's Choice

Title
Presto 01781 23-Quart Pressure Canner and Cooker, Aluminum
Presto 01784 23-Quart Induction Compatible Pressure Canner,...
Budget-friendly
Image

Title
Presto 01781 23-Quart Pressure Canner and Cooker, Aluminum
Amazon's Choice
Image

Title
Presto 01784 23-Quart Induction Compatible Pressure Canner,...
 Difference Between Presto 01781 Vs 01784 Pressure Canner
Presto 01781 and 01784 are two large capacity pressure cooker and canners with incredible 4.8/5-star rating by thousands of content users from around the world. Both presto canners have similar construction, design, capacity and functions however there are a few differences that might make or break the deal for you.
Product Dimensions
Presto 01781 measures 15x15x15 inches while presto 01784 measures 14x18x16 inches which is slightly bigger. Also, Presto 01781 weighs 12 pounds while 01784 weighs 10.3 pounds.
Construction Material
Both pressure canners and cookers are made of warp-resistant heavy-gauge aluminum however presto 01784 has its base made of stainless steel for induction compatibility which brings us to our next difference. 
Induction Compatible
Presto 01784 is induction stove compatible which makes it fast and efficient however, presto 01781 doesn't have induction compatibility.
Key Features of Presto 01781 vs 01784
With the differences learnt, let's explore some key features for which presto 01781 and 01784 are known for.
Simple design
Presto pressure canners are the perfect option for those who want to can their own food at home. These pressure canners are made of high-quality aluminum materials and feature a simple design that makes them easy to use. One of the best things about Presto pressure canners is that they're very affordable, making them a great option for budget-conscious shoppers.
When it comes to safety, Presto pressure canners are top notch. They're designed to meet all safety standards and come with clear instructions so you can use them without worry.
Presto 01781 and 01784 have no complicated digital control panels so anybody can use them with ease. Both pressure canners have an analog pressure meter to keep track of required pressure.
Huge Capacity
Presto 01781 and 01784 are designed for canning and cooking large batches of meals. Both feature 23 Quart cooking capacity so if you are in need to cook for large number of people, either of presto 01781 and 01784 will serve you well.
Cleanup
Presto canners and pressure cookers 01781 and 01784 are not dishwasher safe and they are required be cleaned manually which is pretty easy.
Here's a quick guide to cleaning either of the two pressure canners. First, empty out any liquid or food residue. Next, disassemble all of the parts that can be removed. The final step is to wash everything with hot, soapy water and then rinse thoroughly.
To clean the inside of the cooker, fill it with water and a little bit of vinegar. Let it sit for a while, then scrub with a nonabrasive cleanser. Once everything is clean, let it dry out, reassemble the cooker and store it in the cupboard until next time.
Quick Tips for Pressure Canning
Canning is a process of preserving food in which the food is sealed in airtight jars or cans. Pressure canning is a type of canning in which the food is sealed under high pressure, making it one of the most effective methods of preserving food.
Here are some quick tips on pressure canning:
Start with fresh, young produce for the best results.

Sort your produce and discard any bruised or damaged items.

Wash your fruits and vegetables thoroughly.

Prepare your jars or cans according to their instructions.

Fill your jars or cans with the prepared fruits or vegetables, leaving enough headspace for expansion during processing.

Pressure can and save for later use.
Quick Overview of Presto 01781 Pressure Canner/Cooker
Sale
The Good √
Recommended by US Department of Agriculture for canning

Large capacity

Durable construction

Economical option

Easy to use

Convenient to clean
The Bad ×
Only one rack included

Regular calibration required

Too big for small kitchens
Quick Overview of Presto 01784 Pressure Canner/Cooker
Sale
The Good √
Huge 23 Quart capacity

Analog Pressure gauge

Induction compatible

Base made of stainless steel

Easy to operate and clean
The Bad ×
Large footprint

Expensive
Conclusion: Presto 01781 Vs 01784
Presto is a household name in the United States when it comes to pressure cookers and canners. Out of all the models, presto 01781 and 01784 stand out for durability, large capacity and price tag.
Both pressure canners aren't much different in terms of material used, capacity and size however here is how you can choose the one you are looking for.
Choose Presto 01781 if you are looking for budget option.

Choose Presto 01784 if you need induction compatible pressure canner.

Choose presto 01784 if you don't have budget issues.
Which pressure canner have you used for preserving your produce? Let us know of your experience, tips and tricks to help out our valued readers.